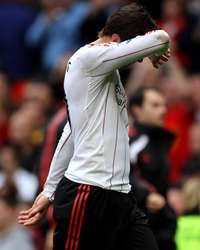 Halo lagi...



At first, sorry for the late post. Emang lagi rada ngaret nih. Banyak PR, banyak tugas. Biasalah ngejar materi yang kepotong libur lebaran.



Yap, di post kali ini, tadinya gw mau ngepost tentang WAGS (Wife And Girlfriends). Tau kan? Yang gak tau silahkan cek di Google. Nah, berhubung gue gak tau banyak soal WAGS akhirnya gue memutuskan untuk memposting tentang pendapat Ferguson tentang pertandingan MU vs Liverpool kemaren, yang berhasil dimenangkan oleh MU dengan hasil tipis 3-2.



This it is!!



Ferguson menilai reaksi Torres terhadap John O'Shea berlebihan.
---
Setelah laga seru Liga Primer Inggris antara Manchester United dan Liverpool dimenangkan tim tuan rumah dengan skor 3-2, Sir Alex Ferguson mengkritisi aksi Torres yang terjatuh setelah mendapat tekel dari John O'Shea pada menit 72 yang berujung kesuksesan Gerrard mencetak gol kedua melalui tendangan bebas.
"Saya menyaksikan aksi itu berulang kali dan Torres jelas berusaha mempengaruhi wasit untuk mengusir O'Shea!" ujar Fergie dikutip dari
The Sun
.

Namun pernyataan ini disanggah oleh Hodgson.

"Pikiran pertama yang terlintas saat menyaksikan adegan tersebut, jelas pelanggaran," ungkap pelatih anyar
The Reds
tersebut.

Tetapi Hodgson setuju dengan pendapat Ferguson jika O'Shea memang masih layak berada di atas lapangan.

"Keputusan wasit tidak mengusir O'Shea sudah tepat."
text taken from : Goal.com
---
Wah, wah, wah, Fergie suka berprasangka buruk nih. Ya, setiap orang kan beda pendapat. Kata temen gue yang merupakan fans Liverpool bilang kalo MU mainnya kasar, apalagi Evans sama O'shea.
Yah, kalo saya sih, no comment aja dah, daripada gue ditimpukin ama fansnya Liverpool. Yang jelas:"Yang terbaik adalah pemenang." :)



See ya, on the next post!!